The Chamber of Commerce is a valuable resource for many businesses, both small and large alike. The chamber's primary goal is to assist businesses in gaining more exposure and knowledge, as well as to promote economic growth within communities around the world.
We've yet to come across a resource that adequately recognizes the incredible job done by marketing professionals at chambers, as well as the services they provide as the backbone of our economy. From social media management to website development, these professionals are on top of it all.
In support of our marketing colleagues, I evaluated Alabama's top five chambers of commerce on their Instagram presence. Let's dive right in!
I began my research with a not so quick Google search: "Alabama Chambers of Commerce", super simple right? Wrong! To my pleasant surprise there were many different chambers. After my anxiety subsided I created a Google sheet with the names of each chamber, the cities in which they are located, their website, Instagram account, and follower count. Although I didn't pay much attention to their overall 'like count', I thought the follower count was important for marketing purposes.
I wasn't shocked by what I discovered: larger cities had more of a presence on Instagram. I began my rankings based off; one- how esthetically pleasing it was to me, two- how active they were on their platform, and three- how they promoted their upcoming events such as, ribbon cuttings, chamber news, etc. After spending the first four hours of my day doing this I was able to narrow down the top five chambers in Alabama according to their social presence, and my social media "standards" (:
Coastal Alabama Business Chamber- Gulf Shores, AL
Central Baldwin Chamber of Commerce- Robertsdale, AL
Madison Chamber of Commerce- Madison, AL
Montgomery Area Chamber of Commerce- Montgomery, AL
The Chamber of Commerce of West Alabama- Tuscaloosa, AL
Here's why these are my top five, starting with:
Coastal Alabama Business Chamber: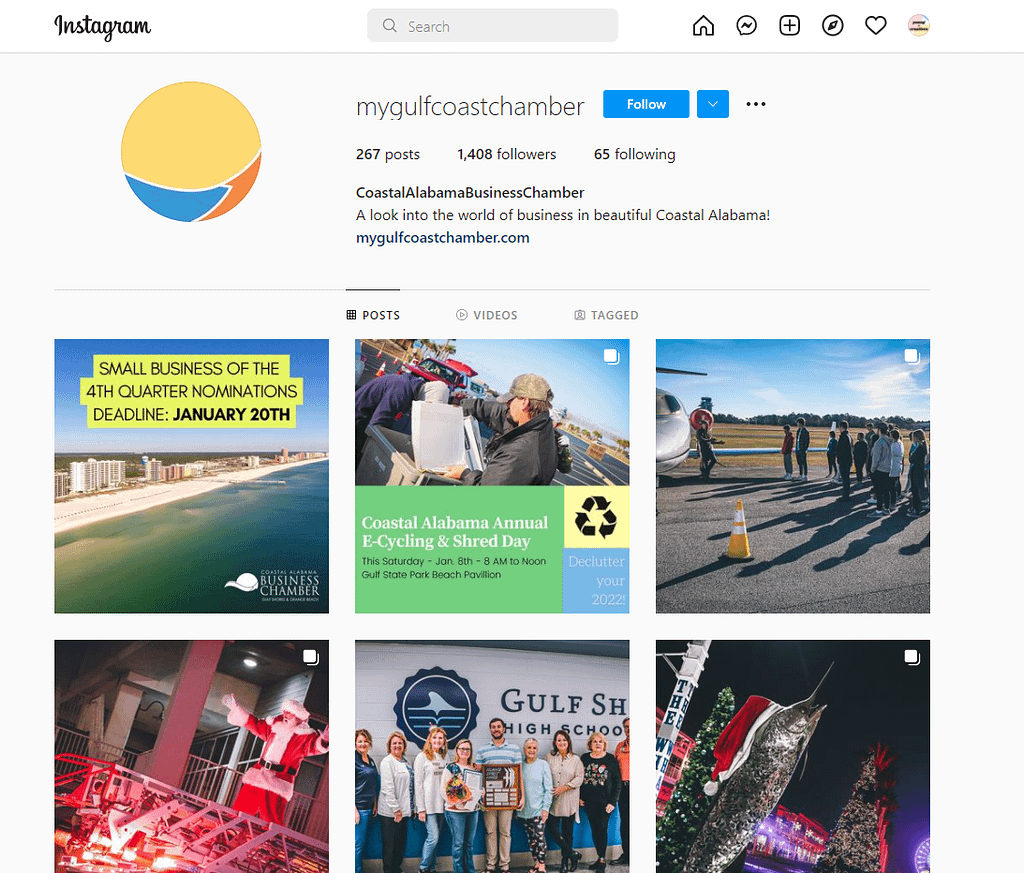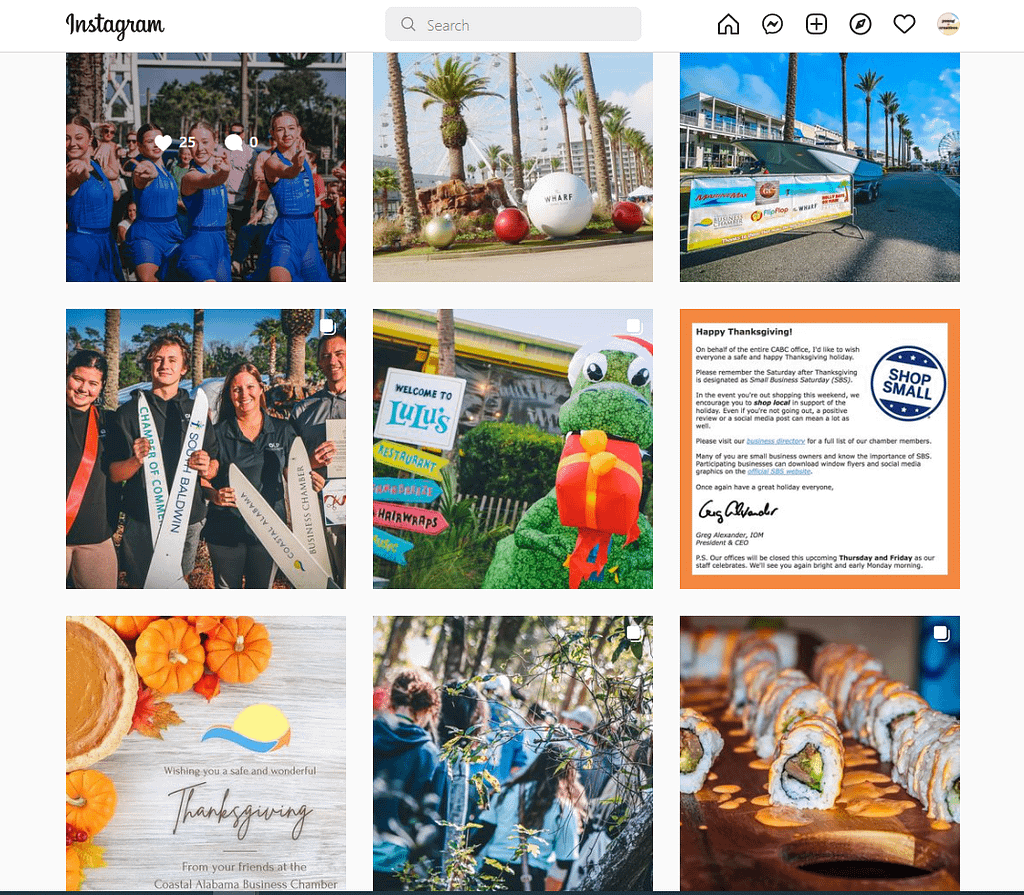 The website and Instagram account both made me feel like I was visiting Gulf Shores for starters! The feed of the Instagram was digestible and esthetically pleasing, and they do a great job highlighting events going on in the area. Every photo that is featured on the account showcases the beauty of Gulf Shores and it's citizens in some way. Well done Coastal Alabama! You can visit them online at: mygulfcoastchamber.com
Central Baldwin's Chamber of Commerce:
This chamber does a phenomenal job highlighting past events on their website with the use of photos. They also promote networking gatherings like "after hour conversations" and "coffee chats." Their Instagram also does a great job highlighting events. Featured photos and videos include ribbon cuttings and new businesses coming to the area! Check them out online at: centralbaldwin.com
Madison Chamber of Commerce:
Madison's Instagram account does a great job highlighting a lot of its members achievements, and features wonderful candid photos. They also do a great job utilizing the "story" feature. There is also a great balance of photos, videos, and graphics. Many of their posts and captions are reminders to "shop local", a reminder many of us need sometimes! Visit them online at: madisonalchamber.com
Montgomery Area Chamber of Commerce:
Although I didn't really consider website design when doing rankings, I have to say that Montgomery Area Chamber has a beautiful website! It wonderfully displays information in an easy to digest way. Their Instagram account has great content as well. Their feed is concise, and includes a mixture of photos, videos, and graphics, highlighting webinars and fun facts. I'm a fan of the ribbon cutting and groundbreaking photos! Check it out for yourself: montgomerychamber.com
The Chamber of Commerce of West Alabama:
West Alabama chamber's Instagram account features a lot of photos and videos of their member's successes, as well as important dates. It is also very brand conscious and has a feed that looks amazing. Not only does this feed feature pictures, videos, and graphics, they also feature educational long form content as well. They utilize saving stories to their profile as well to highlight topics so that you can go back to watch them! Visit them online at: westalabamachamber.com
Conclusion
Alabama Chambers all have two things in common; they take great pride in their state and support those in the community. If you're a member of one of these chambers, give a round of applause to everyone who helps make it possible and contributes to the success of local businesses.
All of the chambers in Alabama offer their members great perks, and highlight chamber news effectively, so you can't go wrong with choosing any of them to join! We're all familiar with the New Year bringing on new challenges, events, and businesses. Make sure you follow these chambers on their social media accounts and visit their websites for frequent updates, and new opportunities!